Highly-Efficient Quick & Easy cloud based Product Returns Management System
RMAPORTAL.COM is a leading cloud-based Returns Management Software for implementing your own ready-made, ready-to-use, self-service RMA Processing System (Return Merchandise/Material Authorization) & better Repair-Tracking of OEM and durable goods.
Our Returns Management Software solves the missing reverse-logistics side of your sales from your branded online ecommerce store, other online sales like eBay, Facebook Marketplace, etc, even including those from your offline channels.

An invaluable benefit that vendors get from using our system is appreciation from their high-value customers for providing them with a world-class repair-tracking interface that is available 24x7. In addition, an improved overall "brand" & better dependability image help our clients attract new loyal customers.
Join many other companies - domestic and around the world, that are reaping the benefits of our proven and battle-tested RMA and repair-tracking solution.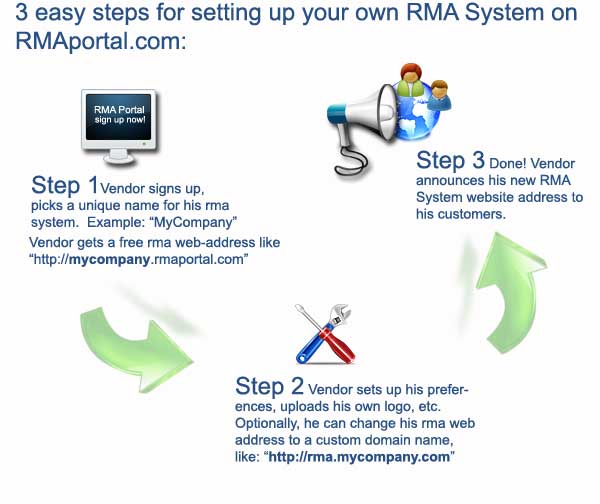 Promote opportunities for more repeat business.

More recurring orders result in more revenue.

Improve retention of existing customers and attract new ones.

Bigger customer base equals more revenue.

Improve efficiency of your customer service reps which will increase productivity.

Increased employee productivity leads to more revenue. Our software comes with easy to follow user-guides that are each tailored for beginner users, advanced customer service reps, and adminisrators.

Reduce overall costs of processing product returns and lessen its impact.

Less business cost means increased bottom line.

Discover true root causes of product returns.

Knowing what products are prone to returns and which ones make more sense to sell more will enable vendors to optimize revenue opportunities.

No need for special training to use our returns management software.

Unlike other returns management system solutions that are too complicated, your staff will hit the ground running on day one using our cloud-based software due to its highly intuitive flow and "always-on" availability.

Please your international customers!

Communicate with your customers in their industry-specific jargons, by letting them choose a specific customized language-set that you can configure word-by-word, including alphabets from any country. This reduces mistakes and mis-communications especially for very technical and sensitive specialized products.

Impress your high-value customers

Your B2B customers like other manufacturers, distributors, wholesalers and dealers need highly customized functionalities that make repairs tracking and updates a breeze.

Start using a world-class global solution

Our software is commonly used as a global solution by large manufacturers and global leaders for OEM products and durable products.
RMAPortal's Returns Management Software also automates your back-office processes like approving RMA cases, status escalation, findings and dispositions management, reporting and statistical analysis, cross-department notifications, etc. Vendors now have an easy way of making their returns process faster and more reliable. More and more vendors are switching to and reaping the benefits of our innovative RMA Software. Sign up now!